Greetings everyone,
First off, we have C2E2 this weekend! We're quite excited to be in Chicago promoting Torchbearer, bringing new fans into the fold and saying hi to our current fans in the Midwest! So please, stop on by on Artist Alley Booth N18. We're co-sharing the booth with Enrica Jang of Red Stylo Press and we promise loads of fun. 🙂 We'll also have print copies of Torchbearer #1 (which will be autographed upon request), posters and T-shirts. I myself will be arriving on Friday evening but Victoria, our production manager, will be handling the booth on Friday, so stop by and say hello and wish her a happy birthday.
Now, onto Torchbearer. To say that progress has been glacial is to put it mildly, and for that, readers I must apologize profusely. We are missing one final page of inks, along with some revisions, and then we'll move to colors and lettering and get the book into your hands. I really don't know what else to say to this: at this point it really is beyond my control. On another front, we have already started production of issue 4 (which, yes, given that issue 3 is still being worked on, it seems risky, but in the next few weeks we'll discuss how this is possible), so when issue 3 comes out in May (which is what it's starting to look like (argh) ), we'll be ready to release issue 4 in July and FINALLY maintain a regular schedule of delivering issues every 2 months.
Also, last weekend we recorded the Home Invaders Variety Hour, a comedy variety show that will be broadcast on Sunday on channel 34 on FiOS and Time Warner Cable from 11 pm to midnight. If you're in the NYC area, record it and have a laugh. For those outside of the NYC area, I was promised a DVD copy of the recording: as soon as I have it, I'll upload for all to see. I was very fortunate to meet a nice, promising rapper called AceTown. I recommend you head over to his site, listen to some of his songs.  Here is a couple of pictures behind the scenes of me and AceTown, and also of the whole cadre of Hector Bosa's guests.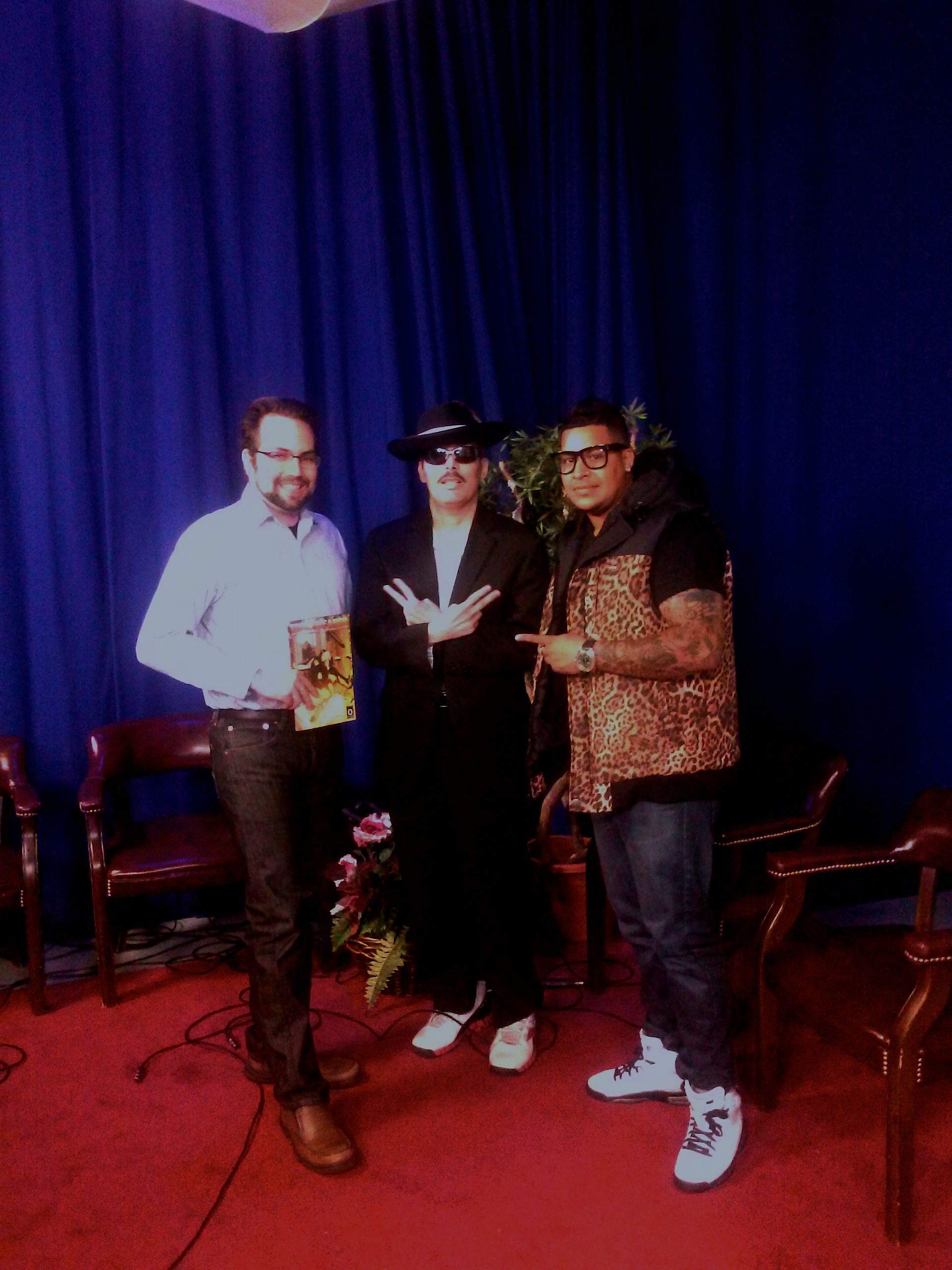 As for the novel project, good progress has been made these past few weeks, but only enough to make it halfway to meeting my CampNanoWriMo goal. Yet, I still think I'm onto something with this novel, so I'll maintain Wednesday progress reports of the same. I doubt they'll be on a weekly basis, truth be told, given that this project cannot affect Torchbearer, but I am confident I'll be able to write it on a regular pace.
And last, but certainly not least, Boston.
I don't think there's anything else that I can say about the events themselves that haven't been discussed, dissected, reported, tweeted, blogged, liked or hated on a Facebook wall. It's a tragedy, and for the past week the citizens of Boston, Cambridge, Newton, Watertown, and the rest of the US (and the world, I dare say) were on a roller coaster ride as the manhunt was underway, only to finally breathe a sigh of relief when one of the suspects was caught alive. I was very concerned for the safety of my friends and family that were in Boston (some of them thought I was a little too concerned with the events in the city. But, better safe than sorry).
Look, as much as I love New York City and consider it my home, a part of me is Bostonian. I grew up (in the sense of that I matured from the scrawny 17 year old into a more mature person) in Boston. Massachusetts was the first state I lived in when I left Puerto Rico. And no matter what, I'll always be a Red Sox fan (much to the chagrin of everyone around me). And I think that a lot of us who wanted to be in the city felt somewhat powerless that we couldn't be there. I know I did. And I looked for ways to help.
I mention all of this because these thoughts and feelings were a strong factor in me helping set up WeWinCon, an online comic con designed to gather funds for both charities and artists who were affected by the cancellation of Boston Comic Con (an event scheduled for last weekend). As many of you in the industry may know (and most outside of it won't), last weekend was Boston Comic Con, a pretty big comic book convention. I've come to appreciate how important it is for artists and comic book producers to attend these conventions: it can easily mean making that month's rent in sales. To have cancelled it, while completely understandable, dealt a significant blow to the artists who had already gone to the city. With Enrica, we thought it was a good way of not only helping the city by encouraging donations to the Red Cross and Boston Children's Hospital, but also help out our fellow artists.
Yes, in light of the number of people who were injured, lost limbs and/or lost loved ones, it seems silly to ask for donations for artists. And you know what? Yeah, I will be the first to suggest you donate to the Red Cross and any other charity you find in your heart to donate to. But don't begrudge us for trying to help our fellow men and women in our industry. If you don't feel it's appropriate, I understand. However, if you do want to help out, WeWinCon is still ongoing.
In this exercise of setting up WeWinCon, I realized that there is a great opportunity here to use our talents to help make this world a better place.
What if we dedicated part of a con to explore how both creating works of art, and consuming them, help us through moments of tragedy? What if we could use our pain and suffering to open up a dialogue so we can, I don't know, better understand each other? Perhaps it's naive to think that having creators and fans in one room talking about their most painful and intimate moments of tragedy, but I feel that there is strength in recognizing that one is not alone in this world, that there are others who are willing to provide comfort and that one is able to, well… survive.
I don't know, these are all half-formed ideas that my mind wishes to explore. Hopefully, some good will come from all of this.
In the meantime, it's back to the drawing board desk for me.
See you next week.
Best,
-Nick D.