Greetings everyone,
We've been busy these past few weeks. First, we've finished publishing our second trade, Vol 0.5, of Torchbearer. It comprises issues 4 through 6 of Torchbearer. Needless to say, we're quite excited about it! We hope you will be too, when you grab your copy at one of the comic cons we'll be attending. Or, if you're either in the NYC area or West Berlin, NJ, you can grab copies of both Torchbearer trades from Carmine Street Comics or Stormwatch Comics!
Our comic-con season started this year with Asbury Park Comic Con in Asbury Park, NJ. Here's a quick look at our table.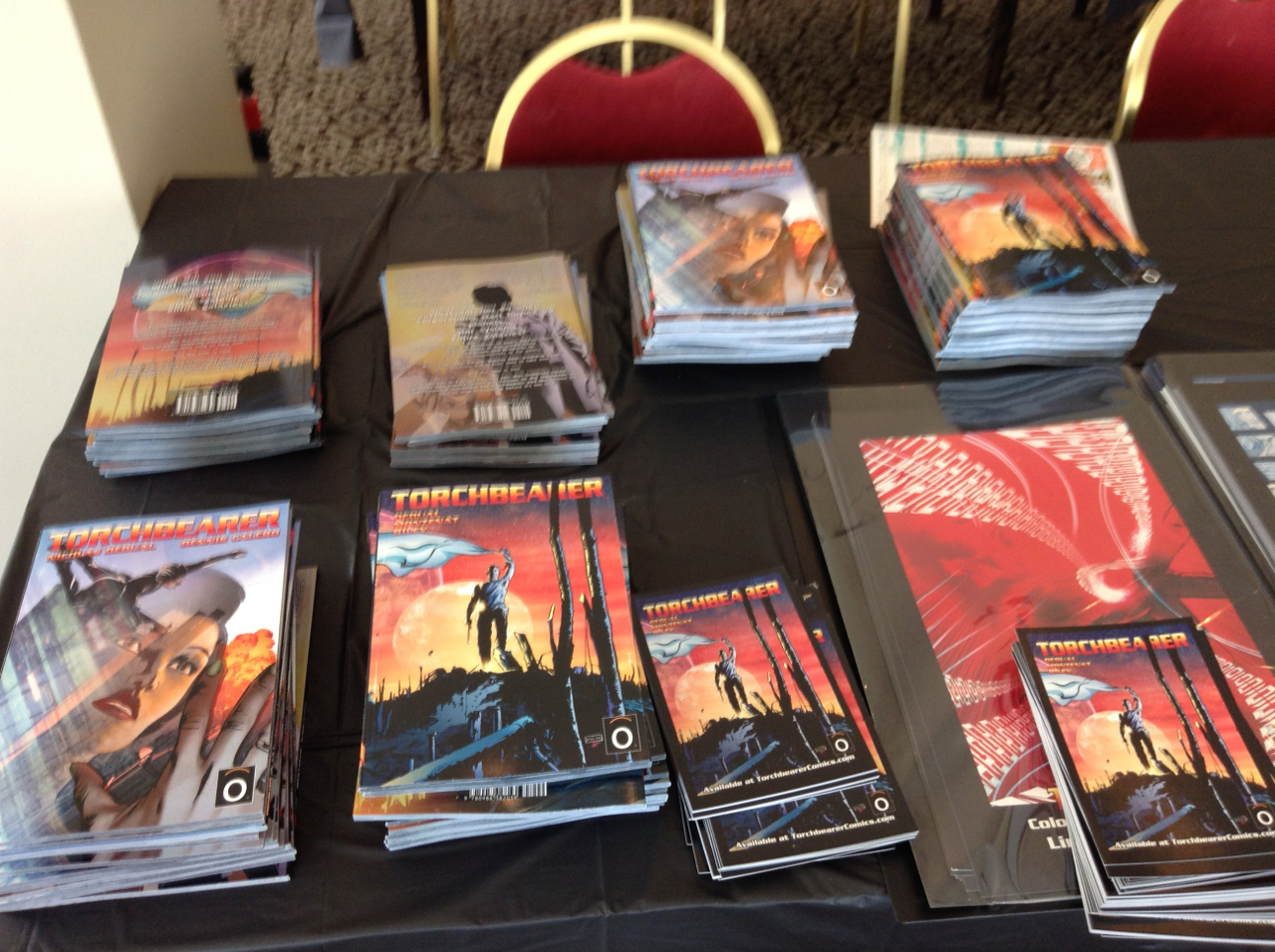 While it was a smaller affair than what we're used to, it was nevertheless great fun! We saw probably one of the best Hunter S. Thompson cosplays we've seen in quite some time. (BTW, did we mention we have a Vine account? We have a Vine account. We'll be updating it more often as we create more interesting clips to share). We were glad to see our friends from The Only Living Boy, BrainJunk Tees and  Laura Guzzo, as well as made some new ones in Frank Barbiere, our comic-con neighbors. It's a shame we weren't able to really capture the awesomeness of Asbury Park Comic Con in pictures, but just trust us: it was a great first con of the season.
Now, C2E2 was another affair entirely. This year, Red Stylo represented us on the main floor, freeing us to attend the con as audience members for the first time in years (though, to be fair, we also went as professionals for the first time, which was a great boon for us!). First off, here are some pictures that highlight just how much C2E2 has grown this year.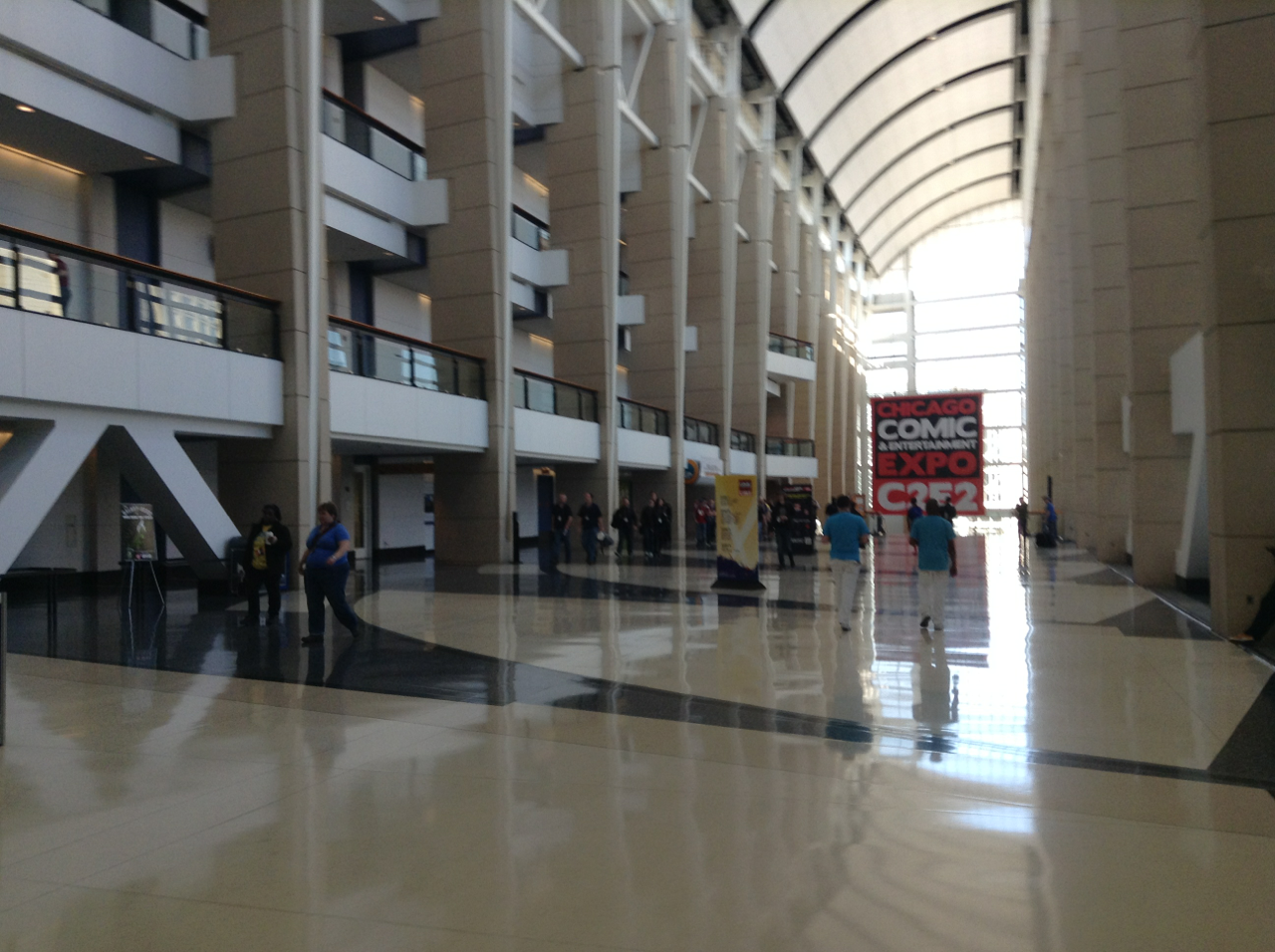 The panel selection was amazing this year as well (though, truth be told, it's been good every year so far that I've gone. Thankfully, I was able to go to them this time around). We saw panels from our friends at Comics Experience, Amy Chu, Jimmy Palmiotti, and we saw a fantastic panel hosted by Geeks Out featuring gay characters and creators in mainstream comics. That last panel mentioned was of interest to us specifically, due to some of the projects we have lined up. Needless to say, we were reaffirmed that we were headed in the right direction 🙂
Aside from meeting fantastic friends and colleagues, as well as new creators who have some amazing projects in the pipeline (special shoutout to Donny Cates, writer of Ghost Fleet, a comic series I'll be sure to keep an eye out), C2E2 served to remind us why we write and create what we create. Given the circumstances we've lived through in the past few months, it's moments like these that strengthen our resolve to withstand any and all difficulties that stand in our way. As creators in this day and age (and one can argue since the very beginning), we're always tested to conform, to just get by and do what others deem is expected from us. Unfortunately, that's not in our cards, as our spirit has this yearning to build, to strive, to express itself in some way, manner or form. We'd be fools to ignore it and fools to just think that this is a need that we can assuage at a later time.
I didn't mean to philosophize there, dear reader. But rather I wished to express a truth that I came to embrace some time ago. While one can do one's best to plan for the future, and even when one thinks they know the future, the destiny that lies in front of them, one will find themselves more often in the wrong. While some things may indeed be set in stone, ours lives are constantly in flux. The best we can hope to achieve is to be true to ourselves and do our best with the circumstances and tools given to us.
OK, I'm going to stop before I get carried away 🙂
Until next time.
Best,
-Nick D.